Girls Go Gravel 4 - October 2022
This is the fourth and final event for 2022 in our Girls Go Gravel Series held in the stunning Sunshine Coast hinterland. This event is limited to 10 ladies only.

You'll get to enjoy a 3 day / 2 night all-inclusive* gravel riding weekend with experienced ride leaders and vehicle support throughout. We'll have the off-bike activities sorted as well with 4 separate social events on-site and at local establishments.
You'll be accommodated at Noosa Eco Retreat staying in luxury Yurts where you can enjoy the peace and serenity of the Retreat.
Price: $790pp twin share.
* Includes wine tasting at Dingo Ck Winery and Welcome Drinks only. Does include alcohol with meals.
Share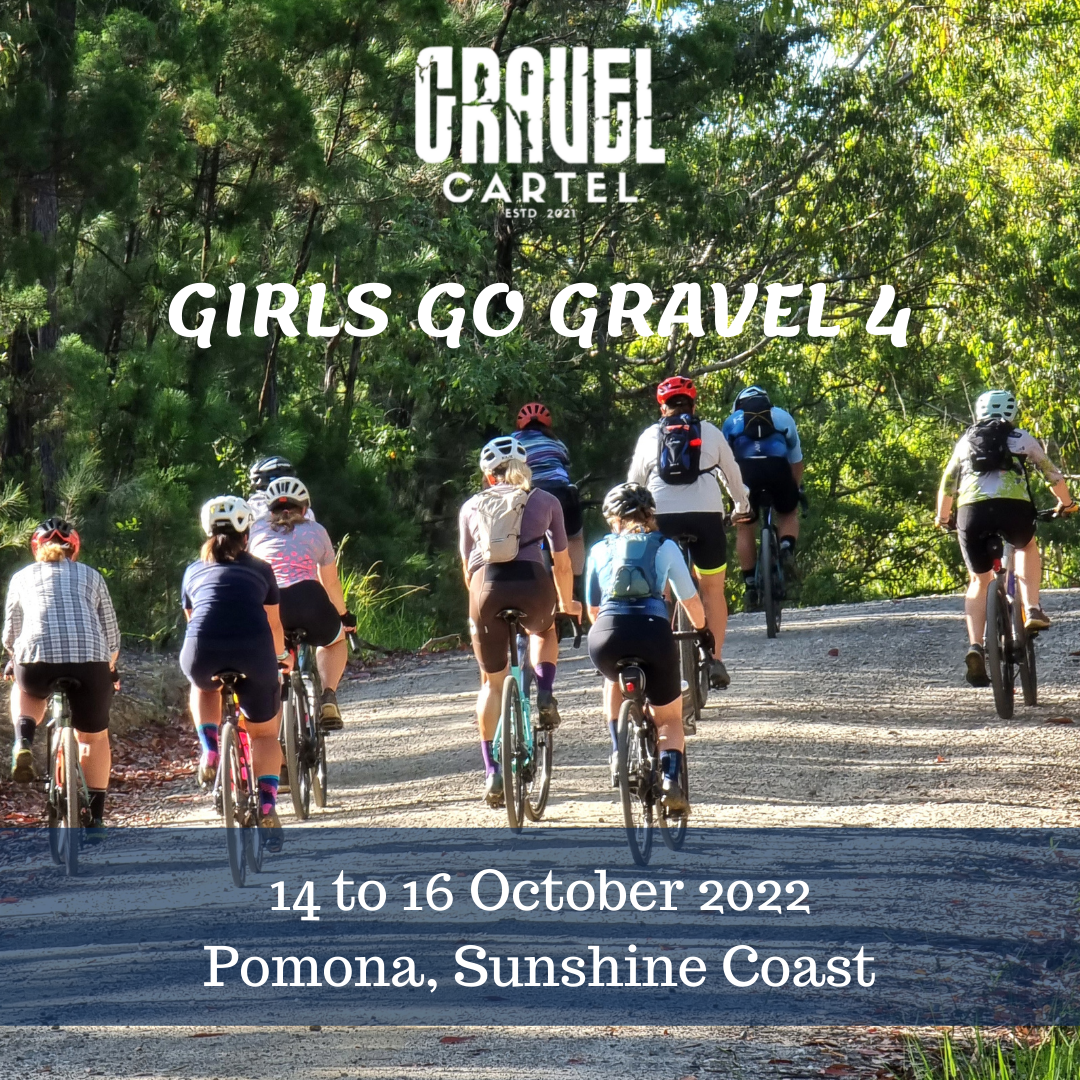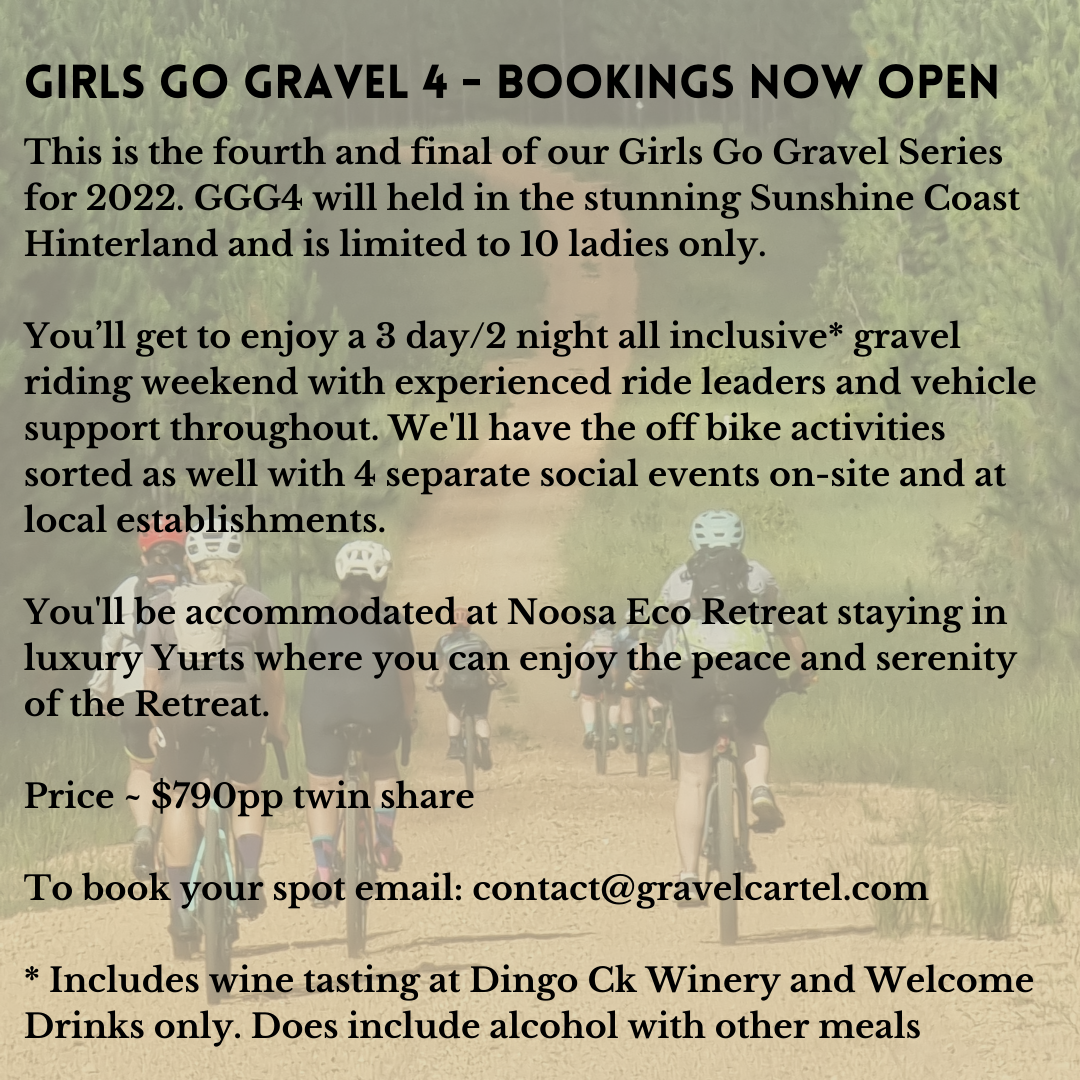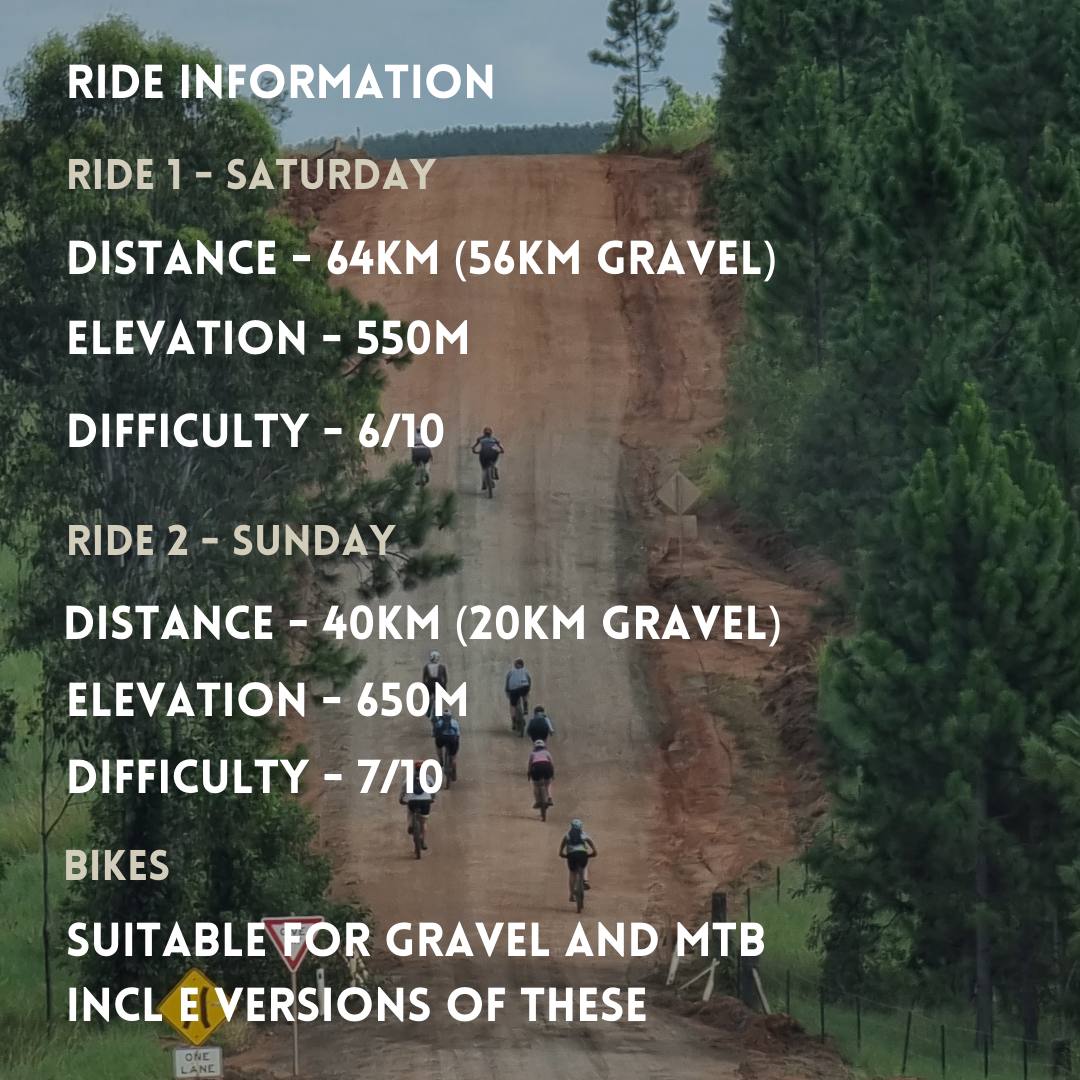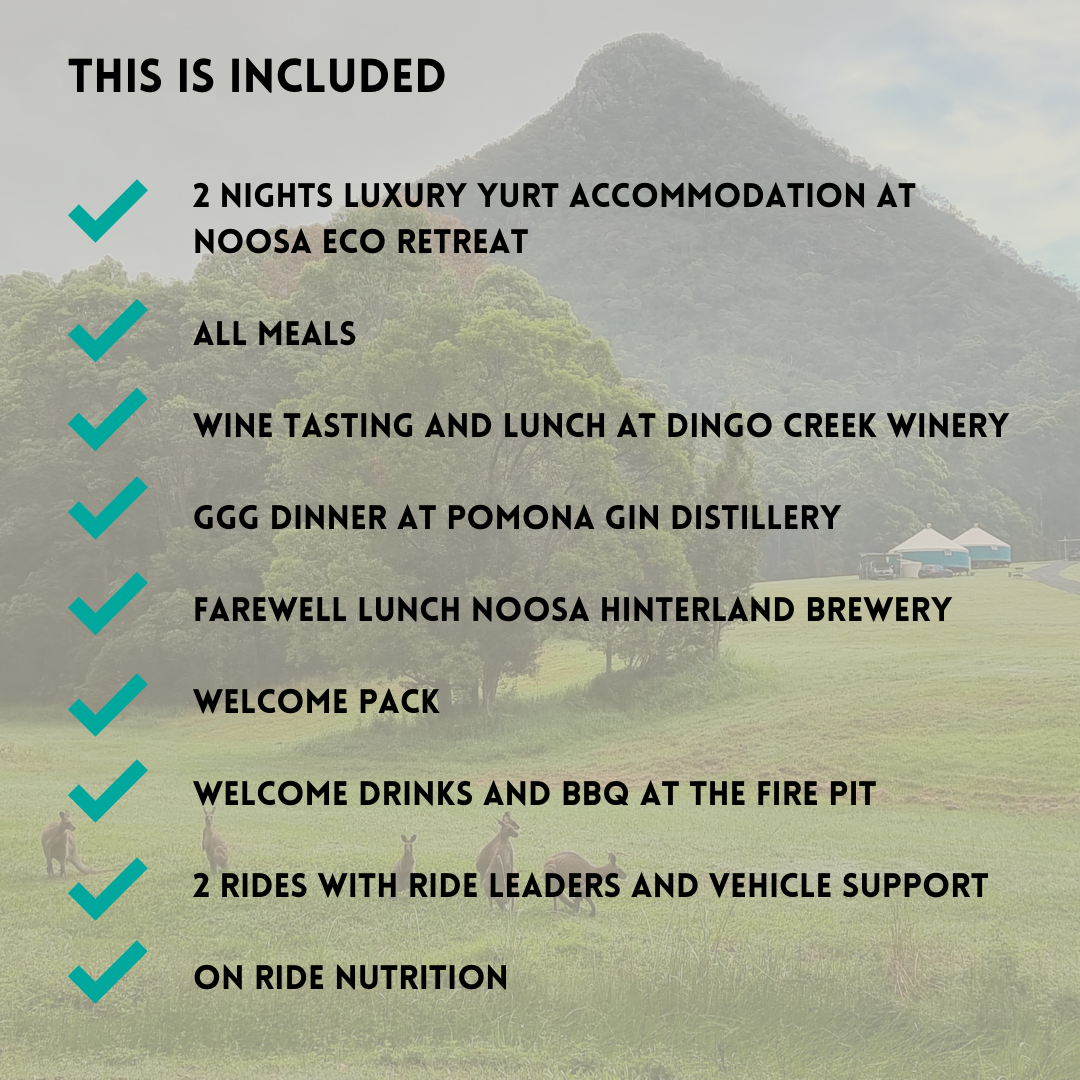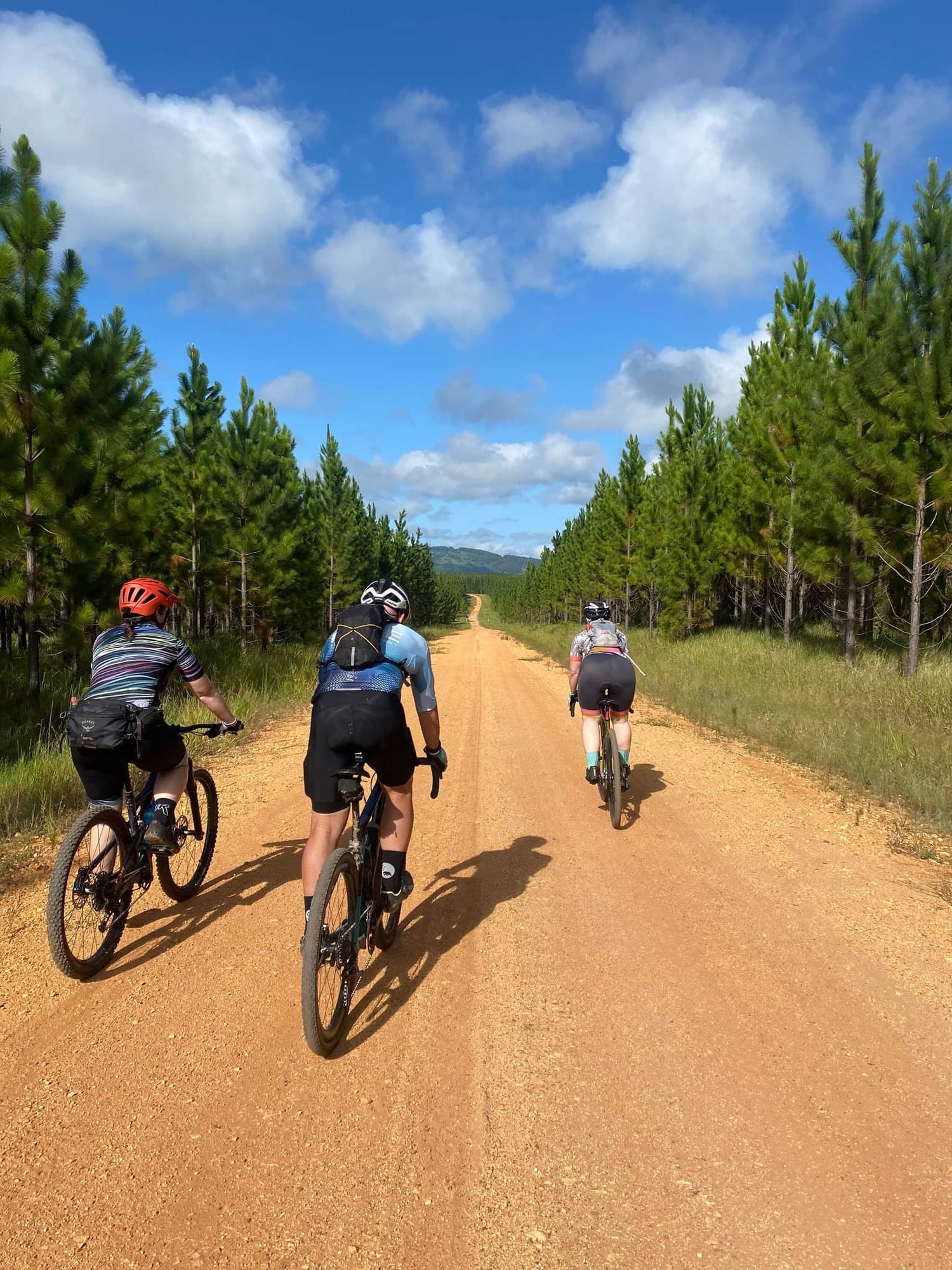 Event Essentials
Dates

14 to 16 October 2022

Location

Pomona, Sunshine Coast

Accommodation

Luxury Yurts at Noosa Eco Retreat

Rides

2 Rides (with Ride Leaders and Vehicle Support)

Fitness Level

Good

Difficulty

Moderate
Included

✅ 2 nights luxury yurt acommodation at Noosa Eco Retreat

✅ All meals

✅ Wine Tasting and Lunch at Dingo Creek Winery

✅ GGG Dinner at Pomona Gin Distillery

✅ Farewell Lunch at Noosa Hinterland Brewery

✅ Welcome Pack

✅ Welcome drinks and BBQ at the Fire Pit

✅ 2 rides with ride leaders and vehicle support

✅ On ride nutrition

Not Included

❌ Transfers to and from Noosa Eco Retreat (can be arranged at additional cost)

❌ Alcohol less welcome drinks and wine tasting

❌ Bike Hire (gravel bikes available for $150 for 2 days hire)

❌ Travel insurance
The Team

Our Girls Go Gravel team is made up of experienced event managers, ride leaders, soigneurs and support crew to ensure that you have an exceptional experience both on and off the bike.




Our ride leaders live and ride the roads and trails and a daily basis so they know the ups and downs, the best lines, the sweetest gravel and highlights of every ride.

Getting There

Our Girls Go Gravel events are based at Noosa Eco Retreat, Pomona a 2-hour drive north of Brisbane and just 40 mins from Sunshine Coast Airport, Maroochydore.




Transfer from Brisbane and Sunshine Coast Airport are available on request and charges do apply.

Suitable Bikes

For the Girls Go Gravel events MTB and gravel bikes are both suitable along with E versions of both of these.




Girls Go Gravel events are NOT suitable for road or commuting style bikes.
Frequently Asked Questions
What is the accommodation for the event?

The Girls Go Gravel events are based at Noosa Eco Retreat. You will be accommodated in luxury Yurts which will be set up with 2 x king single beds. Each Yurt has a small kitchen, chill area, ensuite and a deck. Noosa Eco Retreat is a serene and peaceful Retreat at the foothills of Mt Cooroora and is a very special property.
How fit do I need to be?

To enjoy our Girls Go Gravel events you will need to be able to ride on mixed surfaces for up to 4 hours which in a number of stops. The terrain we ride on is undulating and has a couple of steeper gravel climbs but there are only a couple of these. We encourage you to train for the event by riding regularly on mixed surfaces. The better you are prepared the more you will enjoy your experience.
How technical is the riding?

The rides are conducted on gravel roads and forestry trails. We do not do technical MTB style riding eg. single track.
Can I hire a bike?

Yes. The Gravel Cartel has Giant Revolt 2 gravel bikes available for hire. The cost is $150 per bike for the event. Bikes will be transported to and from the event for you.
Need More Information?
We are passionate cyclists and experienced tour operators. It is our job and our passion to make sure you have a great experience - both on and off the bike. If you have any questions about whether this event is right for you, or need more information, please get in touch.
Contact Us