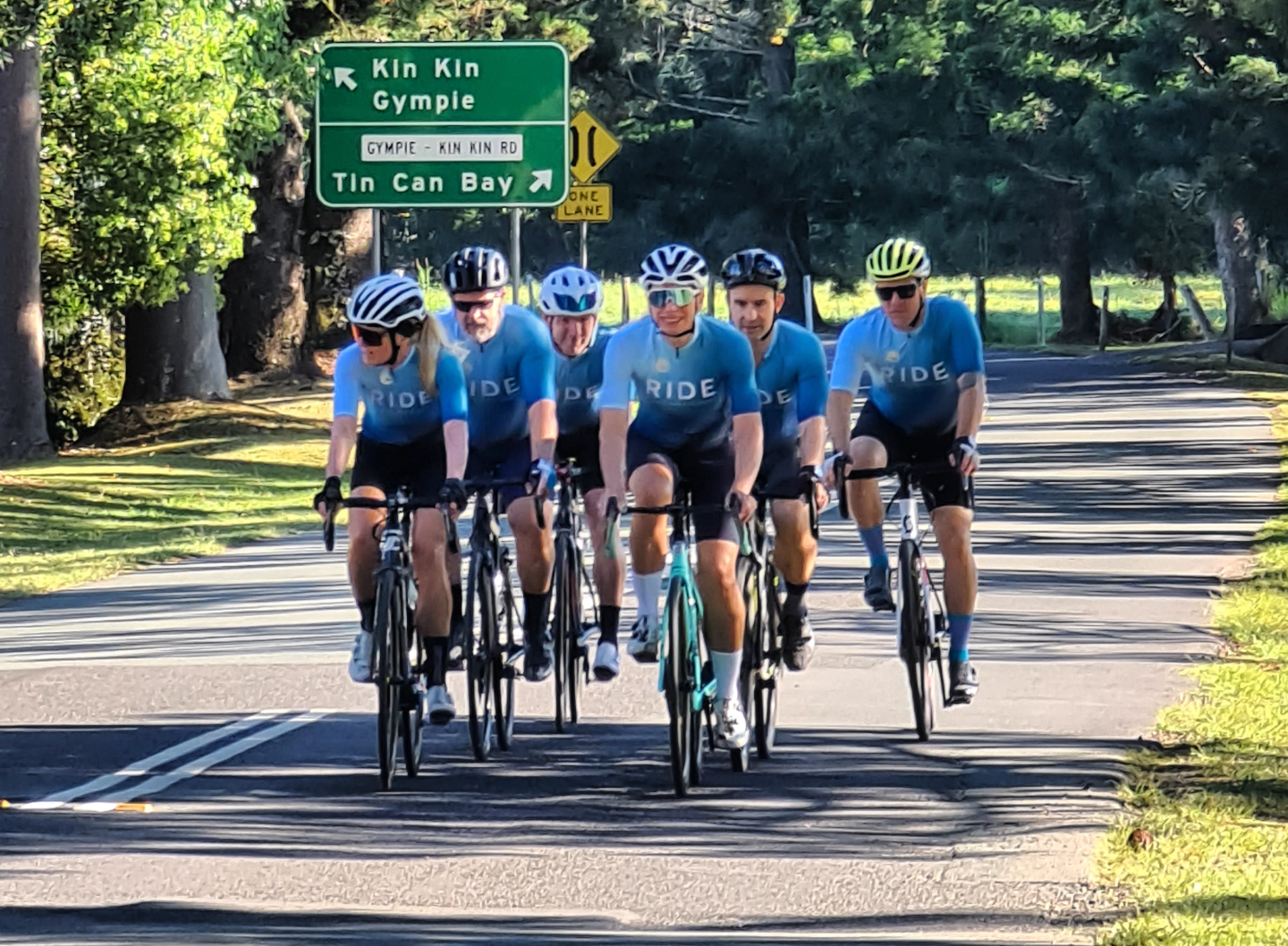 Meet The Team
We have an amazing team that works hard to plan and prepare our rides and make sure you have a memorable experience with us! Read on to learn a little about us.
The Core Team
Meet the owners; the core team. They'll be with you on most rides, planning out the best possible experience for you and then bringing it to life!
Kent Beasley

Kent is the Founder and Director of Ride Pty Ltd which operates both Ride Sunshine Coast and The Gravel Cartel. After a lengthy career as a military officer Kent has spent time in the corporate and not-for-profit sectors. Kent was the founder of the Brisbane Cycling Club in 2012 and overseen the growth and success of that club which has seen it grow into a large, vibrant and active cycling club.

Kent applies his many years of military, business and cycling experience into creating and running premium cycling experiences. Like Michelle, Kent is an experienced road cyclist who has also recently discovered the joys of gravel riding and is enjoying the heck out of it!

Michelle Crispin

Michelle brings many things to Ride Sunshine Coast and The Gravel Cartel but none more important than her passion for cycling and spending time with like-minded people. We like to say that Michelle is the CFO which stands for Chief Fun Officer!. So, whether it's out on the road, on the gravel or off the bike Michelle is there to keep the fun factor high and ensure that everyone is having a great time.

Michelle is an experienced road cyclist who has recently embraced the gravel scene and is just loving the adventure and freedom that comes with getting off the tarmac. Michelle fulfils a number of roles including Ride Leader, support crew and importantly allows Kent to focus on things like rider safety and event management.
Crew Members
Our crew members are an amazing team of cycling enthusiasts who work hard to ensure you have a memorable experience with us! Each crew member has their area of expertise and they'll join in on the different tours accordingly. Read on to learn a little more about them.
About The Crew
Emma Rhymer

Emma is our very own pocket rocket. She is a qualified and experienced MTB coach, rider and racer and just a super lovely person and an integral part of the Gravel Cartel Crew. Emma takes on the role of Ride Leader/Coach on our Girls Go Gravel events, Get Into Gravel and other gravel cycling events on the Brisbane Valley Rail Trail and around her home town of Stanthorpe.

Emma's qualification include:
• Auscycling Instructor (MTB)
• Cert III in Fitness
• Masters of Education

Emma has competed in a number of major MTB and bike packing events in recent years including:
• BrisDivide 450km
• Merida Hidden Vale 24hr
• 99 Bikes Cycle Epic 100km
• Noosa Enduro 100km
• Rocky Trail MTB GP 6hr
• WEMBO Asia Pacific 24hr Solo MTB Championships
• Australian National 24hr Solo MTB Championships

Paulie Stevens

Being a Kiwi there is only one thing Paulie loves more than the All Blacks and that's cycling! Paulie is without doubt our Chief Soigneur...the guy every team and every event needs. Someone who is always there ready to lend a hand, fill a water bottle, drive the mini-bus, change a tyre, fix a mechanical, take a photo or give that little bit of encouragement just when its needed.

Nothing fazes Paulie and there's nothing he wouldn't do to make your experience the absolute best it could be. We are both thankful and lucky to have Paulie in the Ride Sunshine Coast and The Gravel Cartel Crew.

Tony Asmus

Tony grew up on the Sunshine Coast and has lived there all his life. He knows the roads, gravel and trails of the region as well if not better than anyone else. He is an experienced road and MTB cyclist and racer who has been riding gravel even before gravel was cool. Tony fulfils a critical role within the team as a Senior Ride Leader a role he takes very seriously. He not only leads rides he designs routes, checks them out in detail, briefs the riders and looks after their safety during the ride....an absolutely critical role and one which is always our top priority. We feel extremely lucky to have someone with Tony's experience and knowledge as part of our team.

Ian Thomson

Ian is a Sunshine Coast local who loves nothing more than hitting the gravel and trails around Coolum and the Hinterland. Ian is a qualified MTB coach supports the Gravel Cartel's off-road events as a Ride Leader, Coach and in some instances as Chief Soigneur.

Ian has Level 1 in coaching from PMBI (off road focused) and more than 10 years in education, including PE, with more than 3 years experience in off road coaching. In addition he has a Masters in Education and is working towards finishing his professional doctorate in education.

John Rose

Rose as he likes to be known brings the X factor to the team. Former US Marine, qualified bike mechanic and wheel builder, Rose is that guy you just want on your team. Gravel is his thing... tarmac is simply there to connect gravel roads! Through his Sunshine Coast based business, Neutral Service, Rose works full time on providing the best bike service possible. For us it's about keeping our riders on the road on bikes that are serviceable and safe.

Rose brings with him a wealth of cycling experience from his time in the US having started gravel riding many years ago before the scene exploded. He has participated in such well-known events as the Belgian Waffle Ride and Race Across America. When he's not fixing bikes Rose can be seen offering encouragement and motivation to the riders as only Rose can.

Charlie Hodgson

When we looked around the team we found we had event planners, ride leaders, coaches, mechanics and soigneurs but couldn't help but feel that we were still missing something...a craft beer brewer!

Fortunately we found one and a good one at that. Charlie is the head brewer at Helios Brewing Company in Brisbane. But not only is Charlie a brewer he's an avid MTBer and gravel rider who loves nothing more than a few hours on the dirt followed by a cold beer...Helios of course. Charlie helps out with ride leading and putting together our trips based out of Lennox Head.

Support Vehicles
The Ride Bus

The Ride Sunshine Coast bus is our dedicated support vehicle for many events. It follows behind with gear and supplies and is never far away in case of an emergency.

The Gravel Car

The Gravel Car is our offroad vehicle and is great for some of our gravel adventures. Like the Ride Bus, it's loaded with gear and supplies and helps support the ride.